You need to find a professional waterproofing construction unit in Da Nang? Call us now to get the best waterproofing quote for your construction project. Waterproofing in Đà Nẵng - SKSUMO Company is committed to providing quality services, using advanced technology and high standard waterproofing materials. Our team of experienced technicians will ensure your work is completely dry and protected for a long time. Contact us now for a free quote and consultation!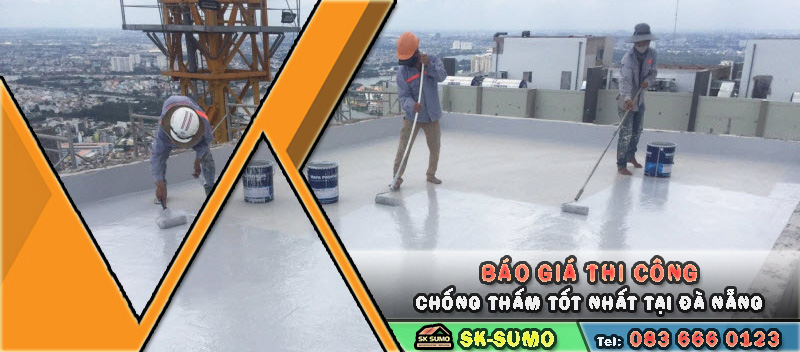 ABOUT DA NANG WATERPROOFING COMPANY - SKSUMO​
SKSumo is a leading waterproofing company in Da Nang, specializing in providing quality and effective solutions for waterproofing and building protection. With a team of experienced professionals, advanced technology, we are committed to providing the optimal solution for customers from small to large projects. Quality, progress as well as customer satisfaction are our top priorities.
1. Expertise and experience in waterproofing construction
With more than 15 years of experience and expertise in waterproofing construction projects, SKSumo is proud to be one of the leading units in the field of waterproofing construction in Da Nang today.
Owning a team of experienced staff, engineers and experts, who are intensively trained in methods of applying modern waterproofing construction technology. We not only use the highest quality materials, the most advanced technology, but also combine with the spirit of creativity and ingenuity to ensure absolute perfection for every waterproofing project.
Not only guaranteeing optimal waterproofing performance, we are also committed to meeting all customer requirements with the highest quality standards. We put our customers first and always create a professional, reliable and flexible working environment to meet the most diverse and complex projects.
The combination of our experience and expertise has resulted in considerable success in waterproofing for civil, commercial and industrial buildings. Our team is proud to contribute to ensuring the safety, sustainability and beauty of construction works in general.
2. Prestigious and quality package waterproofing service
SKSUMO Waterproofing & Maintenance Company fully understands that water ingress can cause many serious problems for your building, ranging from structural damage, mold, loss of energy to the health of occupants. people. Therefore, we put quality and efficiency first to bring peace of mind to our customers.
Our complete waterproofing service includes survey, design, material selection, construction and maintenance. Our team of experienced technicians will conduct a thorough inspection, determine the cause of the seepage and provide the best solution.
We use the most advanced technology and materials to create a waterproofing system that is strong, durable and resistant to the elements. Quality and aesthetics are always emphasized in every project we undertake. We are committed to providing professional and reliable service, while ensuring the construction schedule is completed on time.
3. SKSumo's mission and commitment to customers
SKSUMO is a pioneer in the field of waterproofing construction in Da Nang, we are committed to serving our customers with great reliability and efficiency in solving problems related to seepage. water in construction works in general.
We understand that water seepage can cause serious problems such as affecting the structure and aesthetics of a building, causing damage and mold, endangering health and creating an uncomfortable living environment. Therefore, we have set the goal of accompanying customers to create a safer, dry and better living environment.
With over a decade of industry experience, we have successfully completed hundreds of waterproofing projects to the satisfaction of our customers. Our team of experts not only have extensive professional knowledge but also creative vision, willing to listen and understand the unique needs of each customer.
We use industry-leading technologies and materials to ensure the efficiency and durability of our waterproofing solutions. We are constantly improving our technical capabilities, keeping up with the latest trends and using innovative methods to provide our customers with the most cost-effective and optimal solutions.
THE BEST QUALITY DA NANG HOUSE WATERPROOFING CONSTRUCTION SERVICE​
Is a service provided by the company specializing in waterproofing SKSumo, with the goal of ensuring the feasibility, efficiency and sustainability of construction works in Danang in general.
1. Comprehensive solution
The full service covers all aspects related to waterproofing, from surveying, material selection, construction, to inspection and warranty. Customers do not need to worry about managing and coordinating work stages.
2. Professional and highly technical
SKSumo Da Nang waterproofing construction company has a team of experienced and highly trained technicians in waterproofing technology and processes. This ensures accurate, efficient and reliable job performance.
3. Using high quality materials
The service uses high-quality waterproofing materials that meet technical standards and requirements. This ensures sustainability and maximum protection for the building.
4. Ensure project feasibility and schedule
Package waterproofing construction service helps customers save time and effort in project coordination and management. The professional construction team ensures the completion of the job according to the committed schedule.
5. Warranty and thoughtful after-sales service
After completing the work, Da Nang waterproofing company SKSumo will provide and be responsible for the warranty along with the most thoughtful after-sales policy for customers. This ensures that the client will receive support and protection long after the work is completed.
Benefits of SKSumo's package waterproofing construction service
The SKSumo package waterproofing construction service brings many significant benefits to customers. SKSumo offers a comprehensive solution that covers all stages from initial survey to completion. Here are the notable benefits of this service:
1. Save time and resources for customers
SKSumo's complete waterproofing construction service saves valuable time and resources for customers. Instead of having to search and contact many different contractors to perform waterproofing-related jobs, customers only need to cooperate with SKSumo. SKSumo has a team of experienced professionals and is equipped with the most advanced technologies, ensuring a quick and efficient project completion. Reducing time and effort in project coordination and monitoring helps clients focus on other important activities and optimize resource utilization.
2. Ensure the feasibility and schedule of the project
SKSumo's services ensure the feasibility and schedule of waterproofing projects. SKSumo uses specialized methods and techniques to ensure the effectiveness and sustainability of the waterproofing system. SKSumo's team of experienced technicians work closely with customers, consulting and planning to ensure the project is implemented efficiently. By adhering to the committed schedule, SKSumo ensures that the project is completed on time, thereby bringing absolute satisfaction and trust to customers.
3. Reduce risk and protect customer assets
SKSumo's full-service waterproofing construction service helps reduce risks and protect customers' assets. Improper waterproofing can have serious consequences such as mildew, damage to infrastructure, and a decline in property value. However, SKSumo is committed to providing reliable, effective and sustainable waterproofing solutions. Using advanced technology and high-quality materials, SKSumo helps prevent water ingress and ensures the best surface protection. Reducing waterproofing risks and protecting assets is a top commitment of SKSumo to bring peace of mind and satisfaction to customers.
THE PROCESS OF QUOTING A PACKAGE OF WATERPROOFING CONSTRUCTION AT SKSUMO​
To ensure quality and meet the needs of customers, the process of quoting a package waterproofing construction at SKSumo is carried out according to the following steps:
1. Surveying and evaluating works
The first step in the process is to conduct a site survey and evaluation. We will investigate factors such as the area, the current condition of the building, the structure and the surrounding environment. This helps us have an overview of the scale and scope of work to be done.
2. Consulting and designing suitable waterproofing plan
After the survey, we will advise and design a suitable waterproofing plan for the project. Based on the information collected, we will recommend optimal waterproofing solutions, protecting the building from problems related to water and moisture.
3. Selecting the best materials and construction technology
Next, we will choose the best construction materials and technology for the project. We always ensure to use high quality materials and apply the most advanced technologies to ensure the effectiveness and durability of the waterproofing system.
4. Calculating costs and making detailed quotes
Finally, we will calculate the cost and make a detailed quote for the project. We will consider factors such as area, type of material, construction technology, and other special requirements to give a detailed, transparent and reasonable quote to the customer.
Above is the best full package Da Nang waterproofing construction quotation process at SKSumo, we are committed to bringing professionalism and the highest quality assurance to every project that we perform.
For any issues that need to be consulted in detail, please contact the SKSUMO company hotline for quick support!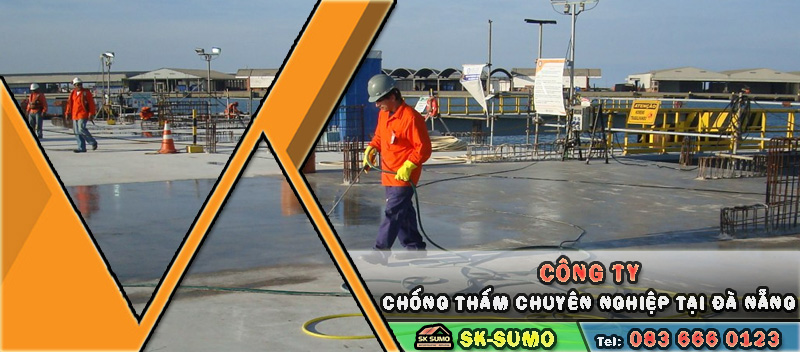 WHY IS IT NECESSARY TO MAKE A QUOTATION FOR WATERPROOFING CONSTRUCTION?​
Quotation for waterproofing construction is an extremely important factor in the implementation of waterproofing projects. It serves as an important step in ensuring project viability and assisting clients in selecting the most suitable service for their needs. Here are the important reasons why it is necessary to make a quotation for waterproofing construction:
1. Ensure financial plan
Waterproofing quotes help clients ensure that they have a tight financial plan for their project. With detailed and transparent quotes from waterproofing contractors, customers can easily assess and estimate the total cost required. This helps them prepare enough financial resources to implement the project effectively, avoiding the shortage of funds or the failure to control costs during the construction process.
2. Compare and choose the right service
Quotations give clients an overview of the services and prices that waterproofing contractors are offering. Customers can compare and evaluate various factors such as quality of service, materials used, construction time and cost to choose the contractor that best suits their requirements and budget. Thereby, they can ensure that they will receive the best and reliable waterproofing service.
3. Assess the feasibility of the project
A quotation for waterproofing construction provides detailed information on the scale and scope of work to be performed in the project. This helps the client assess the feasibility of the project and determine if it fits their goals and conditions. This information also assists the client in planning and preparing the necessary resources, such as labor, materials, and equipment, to carry out the project successfully and efficiently.
FACTORS AFFECTING THE QUOTATION OF WATERPROOFING CONSTRUCTION IN DA NANG​
In the process of making a quotation for waterproofing construction, there are many important factors that affect the final decision on the cost. Understanding these factors helps contractors and customers have a comprehensive view of the influencing factors and ensures fairness in setting prices. Here are some important factors that determine the price of waterproofing construction in Da Nang in general.
1. Type of works and scope of work
The type of building and scope of work are the first factors that need to be considered when making a quotation for waterproofing. Not all projects have the same level of complexity and similar work requirements. For example, waterproofing for a small civil project can be completely different from that of a large industrial project. The scope of work also needs to be clearly defined, including the area, structure and number of items to be waterproofed.
2. Materials used and construction technology
The choice of materials and construction technology also plays an important role in determining the quotation for waterproofing construction. There are different types of materials for waterproofing, from simple materials such as waterproof paint to specialized layers of materials such as waterproofing membranes, neoprene, epoxy resins, etc. Construction technology also depends on the type of work and customer requirements. Technologies such as spray application, brush application, or casting technology will have an impact on cost and implementation time.
3. Local conditions and implementation time
Local conditions and lead times are also important factors in determining a waterproofing quote. These factors include the local environment, current building status, accessibility, and regulatory requirements. In addition, implementation time should also be considered, including material preparation, construction and finishing time. These factors can create volatility in quotes and ensure that quotes fully reflect what is needed to carry out waterproofing work efficiently and reliably.
WHAT SHOULD BE NOTED IN THE QUOTATION OF WATERPROOFING CONSTRUCTION IN DA NANG?​
When providing a quote for waterproofing in Da Nang, there are a few points to keep in mind to ensure that the quote fully reflects the important factors and meets the needs of the client. Here are some things to consider during the quote process.
1. Technical properties and material quality
Before making a quotation, it is necessary to carefully consider the technical properties and quality of materials used in the waterproofing works of Da Nang houses. With the tropical monsoon climate, the use of high-quality waterproofing materials, such as specialized waterproofing membranes, good-quality waterproof coatings and insulation materials, will ensure the waterproofing effect as well as the long-lasting. the life of the building is better.
2. Scope of work and completion time
The scope of work and completion time are also important factors when the company makes a quotation for waterproofing construction in Da Nang. Clearly defining the scope of work, including the area, structure and number of waterproofing items, will help to provide an accurate quote. Completion time should also be considered to ensure that the work will be completed on schedule and to the client's requirements.
3. After-sales service and warranty
During the quotation process, it is necessary to pay attention to the after-sales service and warranty after completing the waterproofing work. Providing reliable and complete after-sales service and warranty will increase the competitiveness of the construction company. Customers are interested in the ability to troubleshoot, repair and provide technical support after the project is completed. This ensures the trust and satisfaction of customers with the project and Da Nang waterproofing company is also understandable.
HOW TO CHOOSE THE BEST WATERPROOF CONSTRUCTION UNIT IN DA NANG?
1. Mastering construction requirements and waterproofing techniques
Before choosing a waterproofing construction company in Da Nang, you need to understand the specific requirements of the project and waterproofing techniques. Determine the type of surface to be waterproofed, degree of immersion, environmental conditions, and other technical requirements. This makes it possible for you to accurately communicate with contractors and assess their ability to meet requirements.
2. Learn and compare construction units
Learn about waterproofing construction units in Da Nang by consulting reviews and feedback from previous customers or searching for information on websites, forums, and social networks. Compare units in terms of experience, expertise, services provided, list of completed works, and prices. Note that low prices are not always the best, and sometimes require a reasonable investment to get good quality.
3. Check Certificates and Operational Licenses
Before deciding to choose a waterproofing contractor, check their certifications and operating licenses. The unit must have full legal papers and professional certificates related to waterproofing work. This ensures that they have the necessary knowledge and skills to do the job in a professional and proper manner.
4. Request a quote and review
Contact waterproofing contractors in Da Nang and request a detailed quote for your project. Make sure the quote includes services, materials, lead time, and warranty conditions. After receiving a quote, make an overall assessment including service quality, reliability, and ability to meet the requirements of the project. At the same time, consult with previous customers to have an honest view of the quality of the unit's work.
5. Contract Agreement and Warranty Terms
After choosing the right Da Nang waterproofing company, discuss and agree on the terms of the contract. Make sure that the contract clearly states the services, materials, lead time, price, and warranty terms. Read and understand the contract carefully before signing. This helps to ensure that the rights and obligations of both parties are guaranteed and disputes are avoided during the construction process and after the work is completed.
6. Monitor and evaluate work
During construction, supervise the work and ensure that the contractor complies with waterproofing requirements and procedures. Periodically check the quality of the work and evaluate the progress. If there are any problems, please discuss and resolve them promptly with the construction unit.
7. Evaluation after work
After the work is completed, evaluate the work of the waterproofing construction unit. Consider the quality, performance, and satisfaction of the service they provide. This review makes it possible for you to provide feedback to the contractor and help others in the process of selecting a future waterproofing unit.
Note: In the process of choosing a waterproofing construction unit in Da Nang, always put quality and reputation first. Don't just look at the price but ignore other important factors.